October 11, 2021
What are those orange ladybugs in Ohio?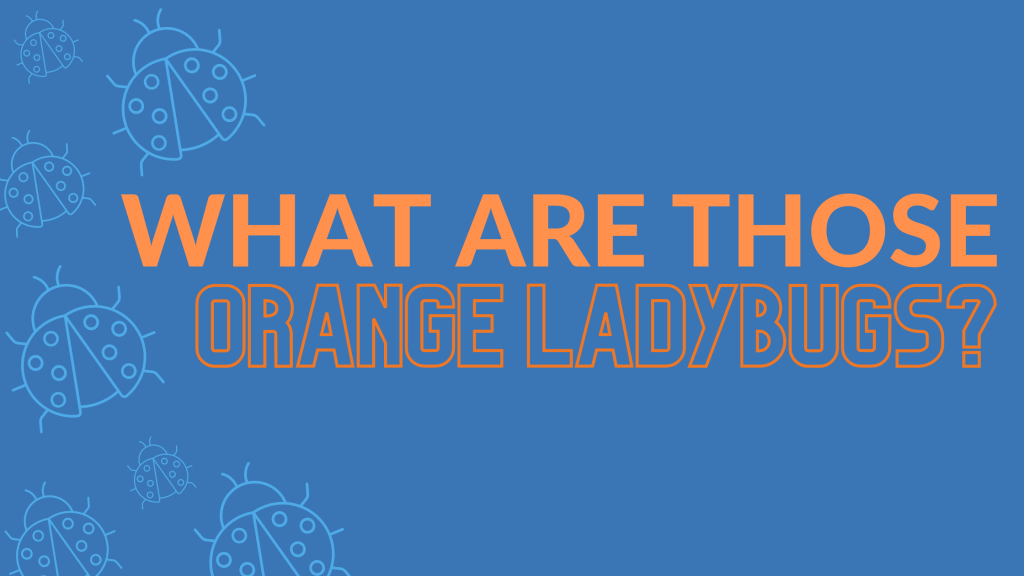 As the weather's gotten cooler, you've likely come across orange ladybugs, either around your home or in your garden. You may think it's nothing more than a regular ol' ladybug. Unfortunately those little orange "ladybugs" are actually a nuisance pest. Read more to learn what they are and why you don't want them around your home.
What are "orange ladybugs"?
The orange ladybugs you see around Ohio are actually Asian lady beetles. Like stink bugs, these beetles aren't a native species to our state. As their name suggests, they're originally from Asia (often found around China, Russia, Korea, and Japan). They were actually introduced throughout the U.S. in the 1960s to the 1990s for aphid and mite population control.
Unfortunately they quickly became a nuisance pest when their populations rose because they lack many natural predators here. Their bright orange shells act as a natural warning sign to other animals that they might be poisonous or at the very least aren't worth eating.
What do Asian Lady Beetles Look Like?
Adult Asian Lady Beetles are oval shaped, ladybug-looking insects. They're usually identified by their bright orange color but they do vary in coloration from tan to red. The female Asian lady beetles typically have multiple spots across their wing covers while those with few to no spots tend to be male. Most of these beetles have a small, dark "W" or "M" shaped marking on the white area behind their head.
Eggs are also oval shaped, yellow in color, and usually laid in large clusters on the undersides of leaves.
Orange ladybugs CAN bite
You might've heard that these little beetles can bite. While that's actually true, you can barely feel the bite if at all. What you're more apt to experience is a yucky smell when you squish them. The smell isn't as bad as smashing a stink bug but it's still noticeable.
The bites of Asian lady beetles aren't venomous to humans.
Asian Lady Beetle Infestation
In autumn, adult Asian lady beetles leave their summer feeding sites to find shelter from the approaching cold of winter. Unfortunately for Ohioans, the shelter these beetles find is usually within our homes and buildings. Swarms of orange lady beetles typically fly to buildings between late September through early November, depending on weather conditions. You're most likely to catch these flights of beetles on warm, sunny fall days following periods of cooler temperatures.
Once the beetles find a suitable surface to land on, they'll seek out crevices and protected spaces to spend their winter in hibernation. You'll often find them in attics, wall cavities that have outside access, cracks around windows and door frames, behind exterior siding, and within other cracks and openings around your home that need to be sealed or caulked.
While they're relatively harmless in general, the problem with Asian lady beetles arises the following spring when the beetles become active again. As they awaken, the beetles are drawn to the closest light source they can find, in search of the sun that will guide them back outside to feed. Unfortunately, they can get a little disoriented and the closest light source could be your indoor light fixtures. This could result in dozens of orange beetles swarming around the inside of your home, chaotically looking for a way to escape and causing you distress as you try and get them back outside.
What Attracts Asian Lady Beetles To Your Home?
Illuminated Surfaces
Asian lady beetles are attracted to illuminated surfaces and will often congregate on sunny, southwest facing sides of buildings that are lit by the afternoon sun.
Contrasting Light-Dark Features
Contrasting light-dark features on the outsides of homes and buildings also tend to attract lady beetles. This could be dark doors and shutters against a light colored home or light-colored trim or gutters on a darker painted home.
Homes Near Fields or Woods
Asian lady beetles tend to feed in yards, forest, and fields so when it comes time for them to migrate, they're more likely to invade homes that are already close to their feeding sites.
Do you have a problem with Asian lady beetles around your home? Contact our extermination team at go2-pros for more information on how to prevent and treat these annoying fall pests.