December 27, 2021
Top Bathroom Design Trends For 2022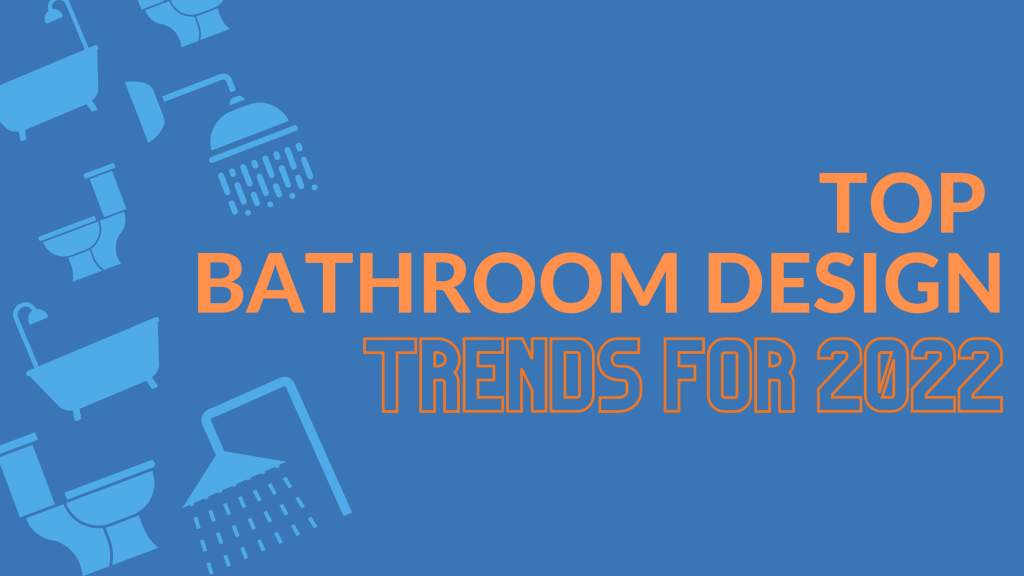 As we welcome in the new year, we wanted to share the top trends that will be paving the way in 2022.
Here are some design ideas to inspire your next bathroom remodel in the coming new year! 
Trend #1 Oversized Colorful Tiles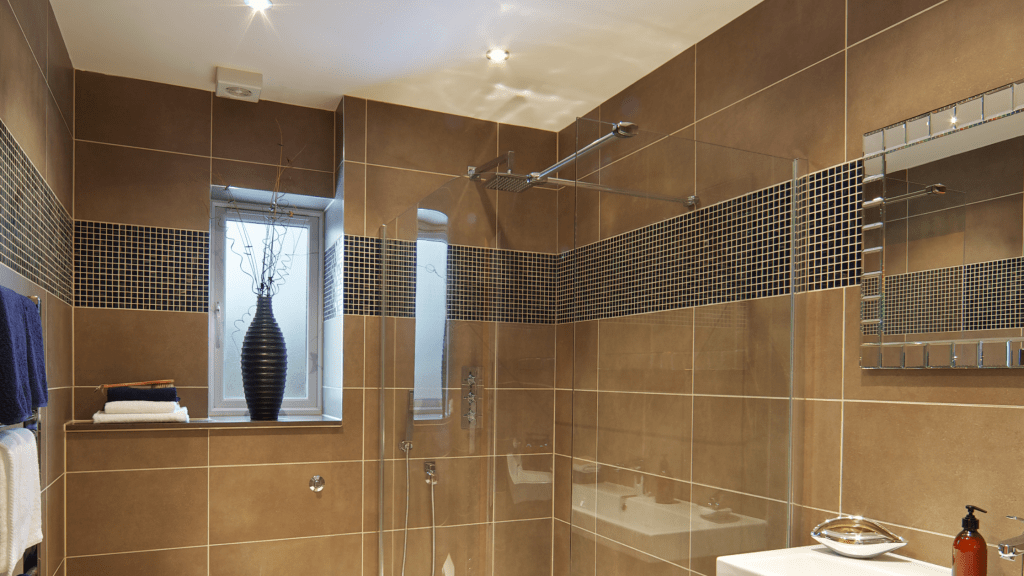 Grey has been a popular color for tiles in recent years but for 2022 the trend is moving on to bolder, warmer styles. Grey is great, but color is better this coming year! Warmer tones are already starting to gain popularity when it comes to vanities, flooring, and wall tiles. With that being said, some homeowners may be hesitant to make such a drastic change over to brighter tile colors. That means grey may still continue to be a top choice for those wanting a change but something a little different from the standard, classic whites and beiges. In addition to color, another thing that's on trend right now is opting for larger, oversized tiles as opposed to the traditional standard square or, the more recently trendy, subway tile.
Trend #2 Free-Standing Tubs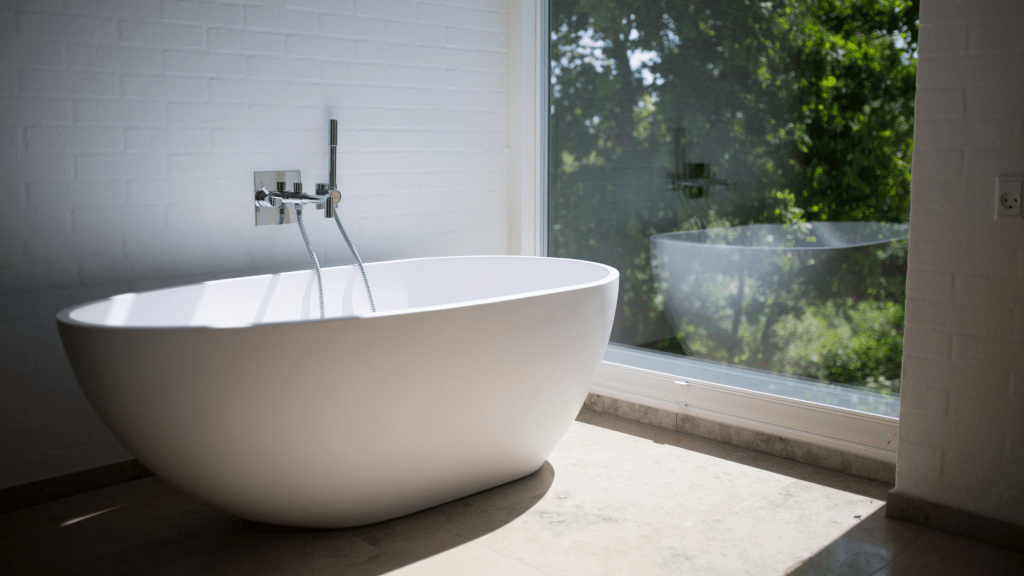 Free standing tubs have increasingly become a trending item over the last couple of years. The size provides more comfort for longer, relaxing soaks, while the shape also gives bathrooms a more modern and sleek design. They can also create a nice focal point if you're looking to create more balance and symmetry in your bathroom.
Trend #3 Smart Tech In The Bathroom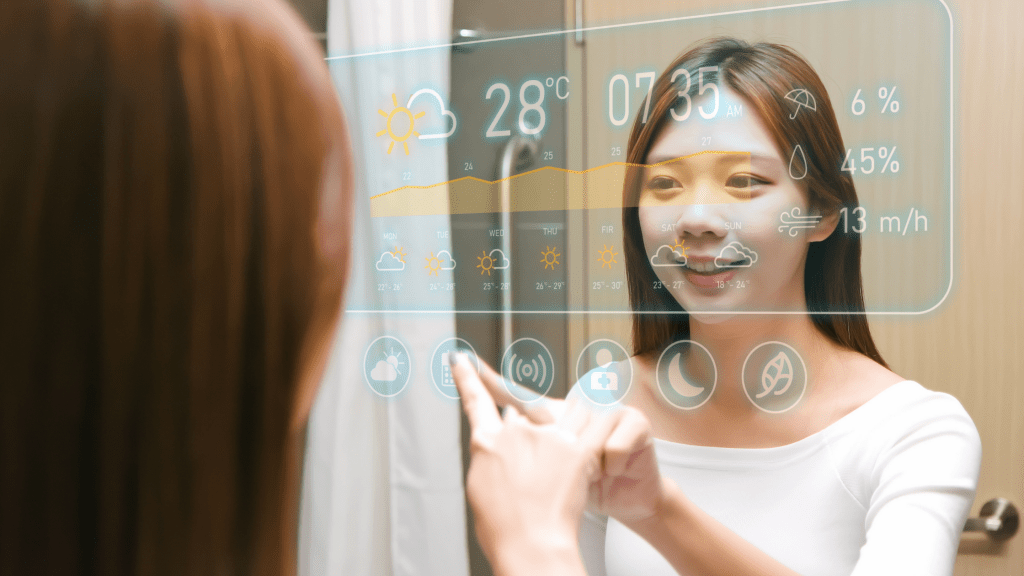 Whether it's installing a smart toilet, towel warmer, smart shower, or just switching out your regular light bulbs for smart LEDs that can change color, smart tech in the bathroom is continuing to increase in popularity! Built-in bluetooth speaker systems so you can wind down or jam out to your favorite music in the shower. Voice-activated features for lighting and temperature, smart mirrors that talk to you, and even TV installments are just a few of the fun trends we've seen in recent bathroom remodels. Modern bathroom remodels are about transforming your boring ol' bathroom into a personalized spa and these fun, trendy technologies make the experience even more relaxing and convenient than ever before!
Trend #4 Double Shower Heads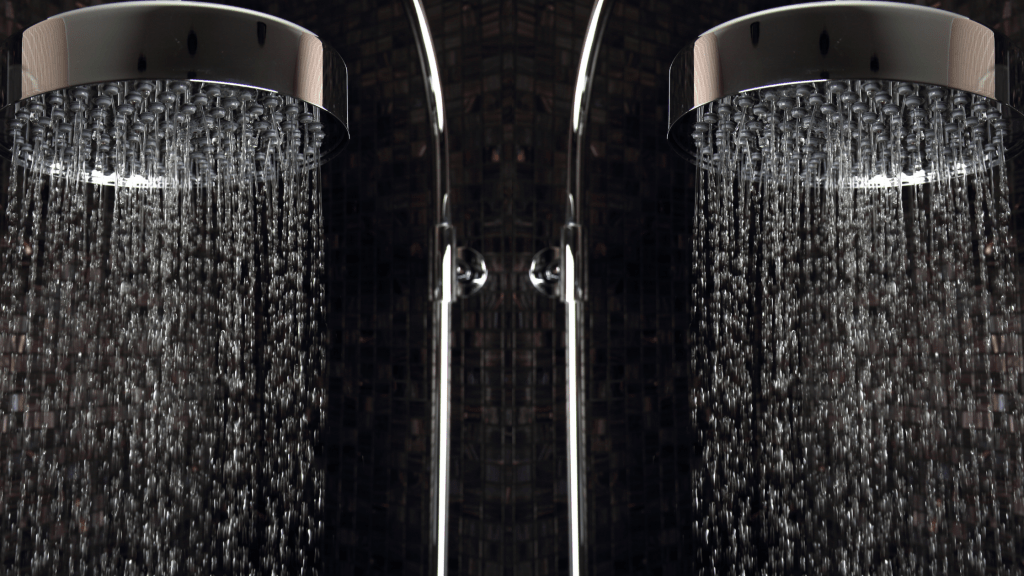 Waiting to take turns under a single shower head while you shower with your significant other is now a thing of the past! Over the last couple of years, showers have become bigger and better and one of the top trends for this coming year is showerheads for two. Twin showerheads are nice to have in general but they're also a relatively inexpensive and easy way to add more luxury to your home.
Trend #5 More Customizable Tile Patterns & Shapes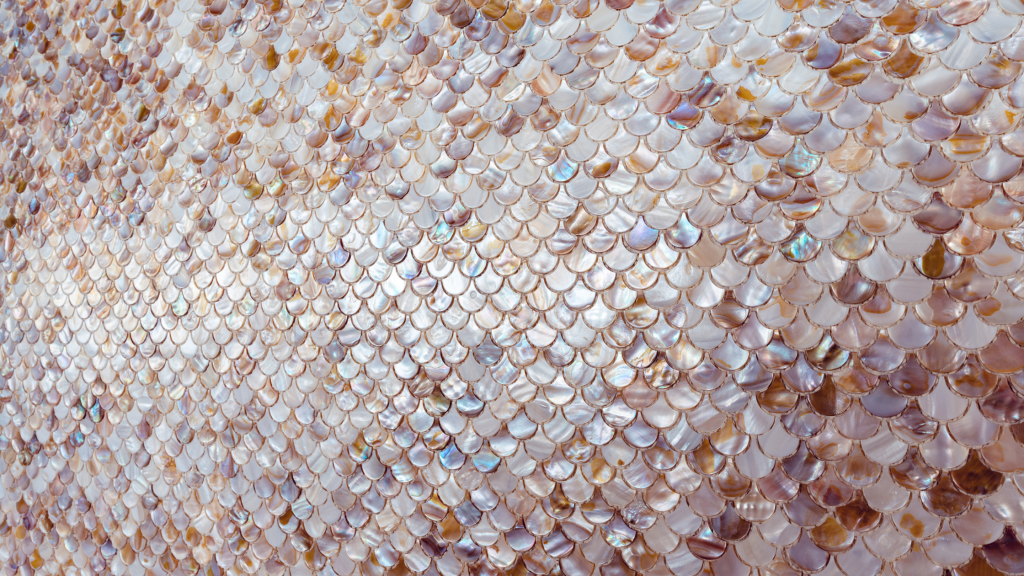 Beyond different color options, tiles are now able to be manufactured in far more shapes and styles than ever before. No longer are you stuck choosing between standard square tiles or subway tiles. Hexagon, arabesque, diamond, Moroccan fish scales, and chevron patterns in all sorts of colors and textures are set to gain popularity in 2022. Many tile companies can create custom patterns nowadays so your options are truly limitless!
Trend #6 Wood Accents Are Making a Comeback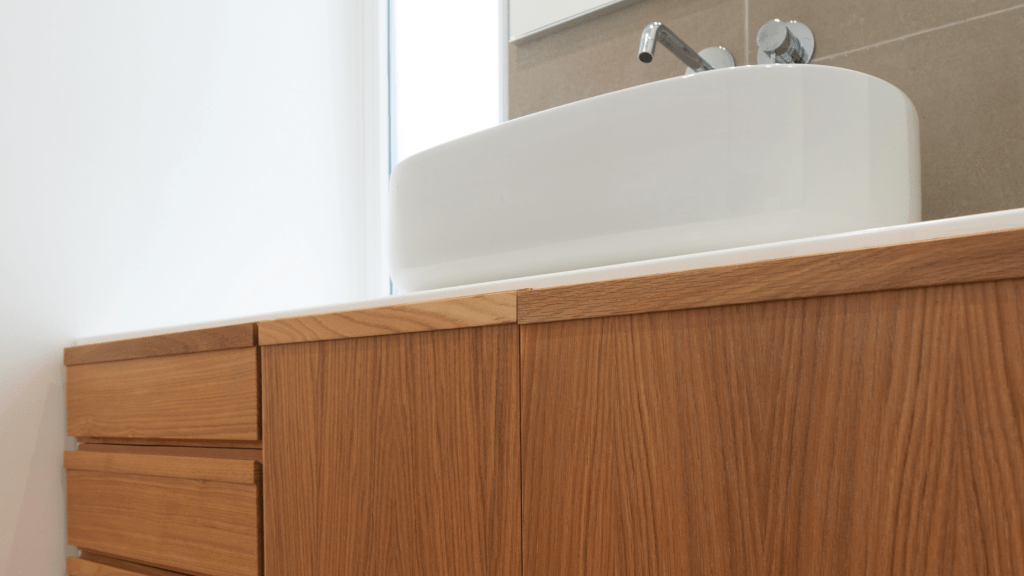 Perhaps one of the more controversial trends in 2022, is the resurgence of wood accents in bathroom designs. Various shades of wood can compliment, blue, green, white, and beige colored bathrooms. Wood accents also pair well with the vintage, farmhouse, and more industrial designs that are already popular so it's no surprise they're making a comeback, especially as more unique styles become available.
Trend #7 Increase In Storage Space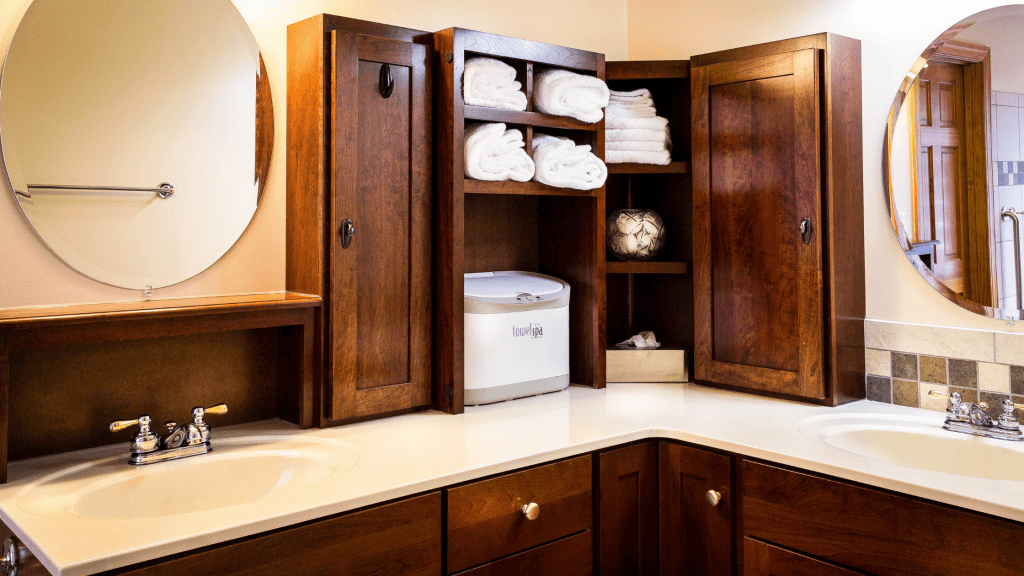 If you're sick of messy cabinet spaces, you're not alone. 2022 bathroom designs are set to feature more storage space than ever before but in features that are more minimalist and compact. Hidden cabinets, modern wall shelving, and vanity under-storage are just a few of the things you'll start to see to help homeowners save space and reduce clutter.
Trend #8 Earth Tones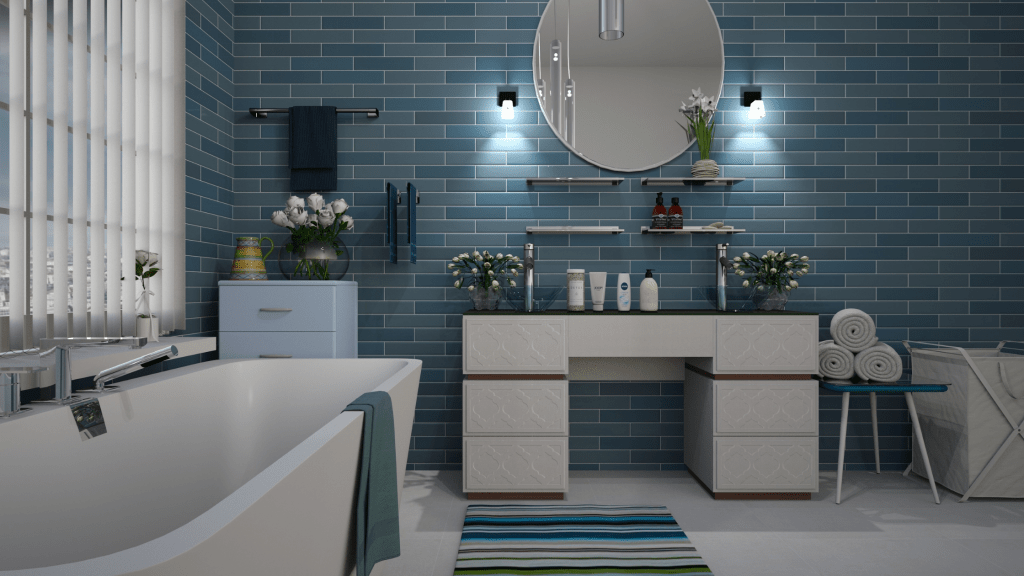 As the trend of grey and cool tones starts to wind down, we expect to see more earthy, warm tones in accents, fixtures, and bathroom accessories. The best part about earth tones is that they pair well with a variety of other colors, ranging from light to dark. Greens, blues, browns are still standard but we're also set to see more warm tones such as dark reds, rusty oranges, and goldenrod hues. Earth tones are a perfect way to make your bathroom feel more relaxing, too, because they're easy on the eyes and invoke feelings of nature and the wellness being outside in the fresh air provides.
Trend #9 Showers > Tubs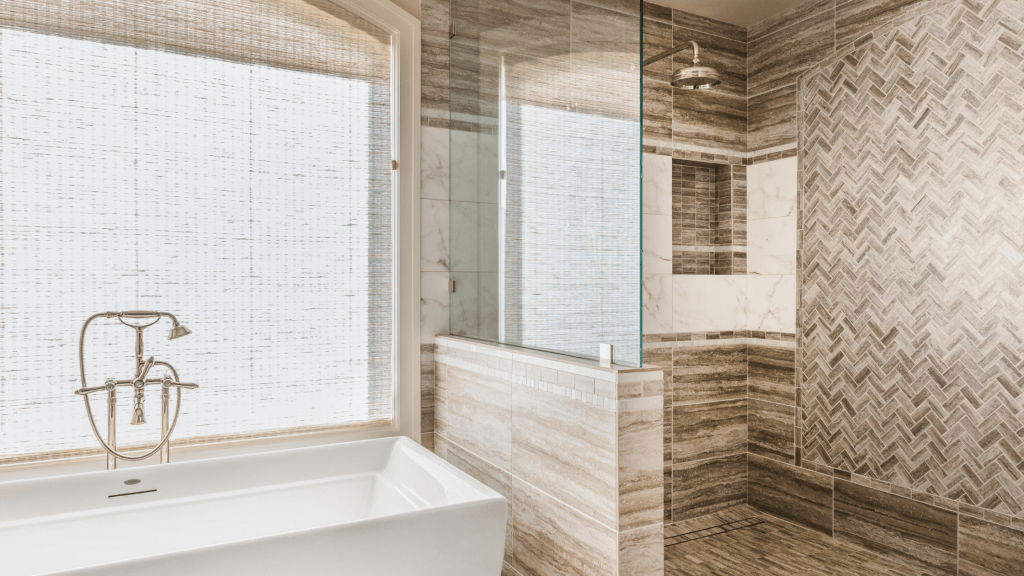 While we did mention free-standing tubs on this list, another thing that's set to trend this year are showers instead of tubs. Showers are becoming larger which gives homeowners the opportunity to create more customization in their designs.
Trend #10 Wet Rooms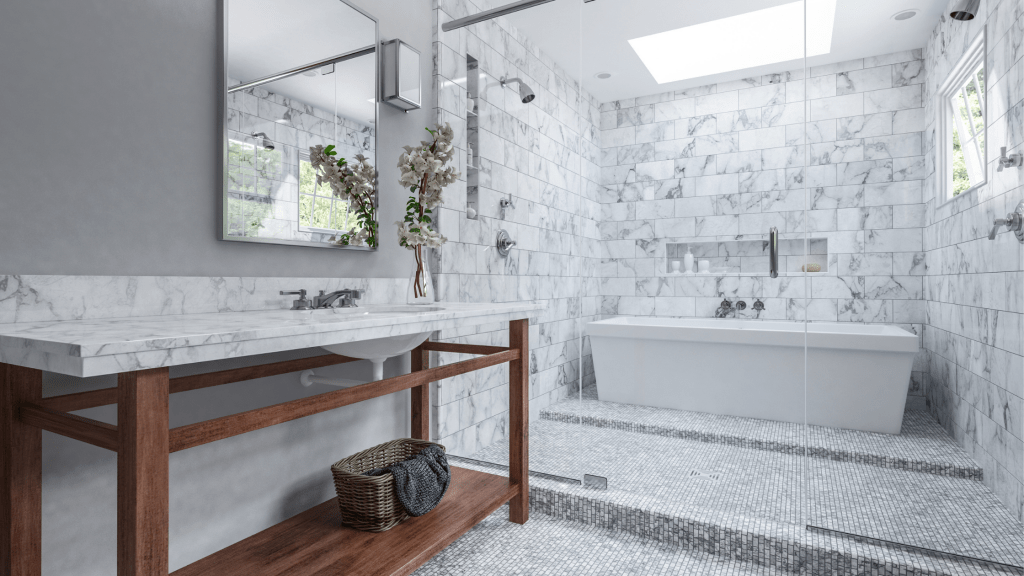 In addition to large showers, another thing we're seeing that is increasing in popularity is the inclusion of wet rooms in bathroom design. A wet room for your tub and shower is a great way to maximize the use of your bathroom space and a more convenient way to keep your bathroom clean.
Trend #11 Asymmetrical oversized mirrors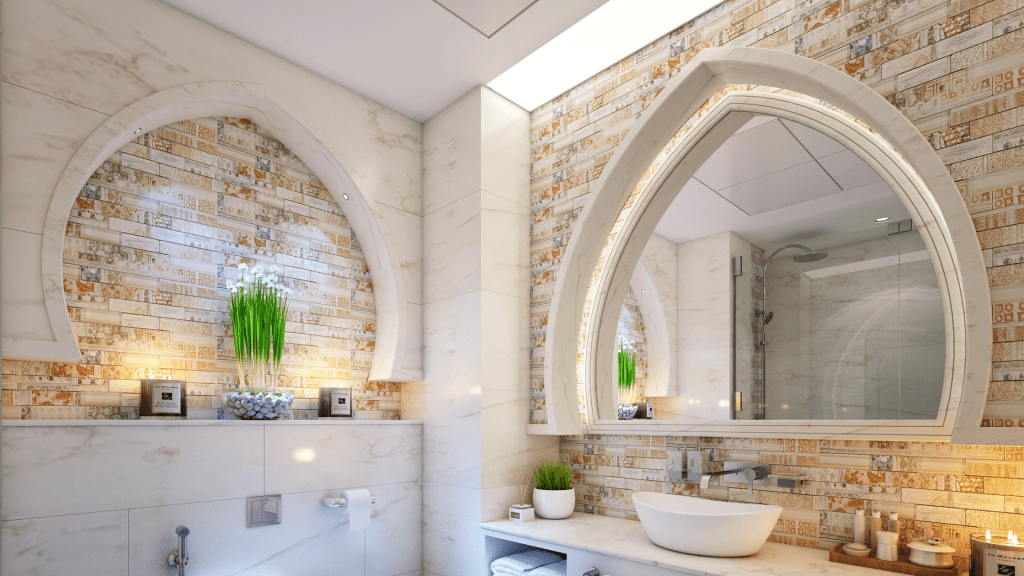 Asymmetrical mirrors are becoming increasingly popular because they've become easier and more affordable to manufacture for homeowners. Unique and geometric mirror shapes are all the buzz lately so expect to see them trending in 2022. Smart mirrors are also gaining traction, with built in LED backlighting, USB charging stations, smart touch capabilities, and more.
Trend #12 Floating Vanities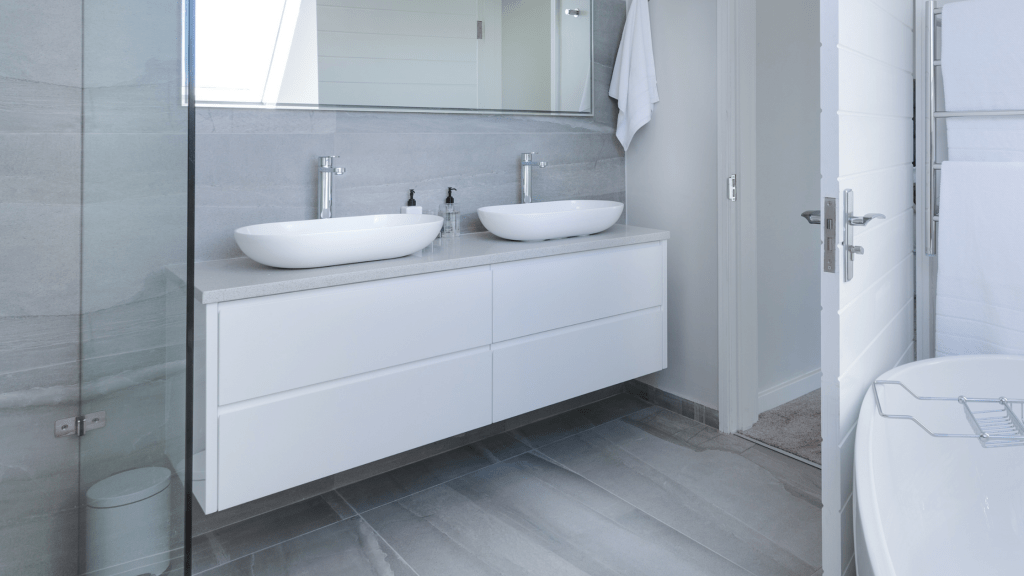 We've previously discussed floating vanities as being a great option for those looking to age in place, but they're also a contemporary design that's increasing in popularity for more aesthetic reasons as well. In many homes, utilization of every last inch of square footage matters and floating vanities are a great way to take advantage of space while also reducing the visual weight of your cabinetry. They don't sacrifice storage either, since you can add built-in organization compartments into the cabinetry itself or opt for wall shelving if additional storage space is needed. 
Trend #13 Wallpaper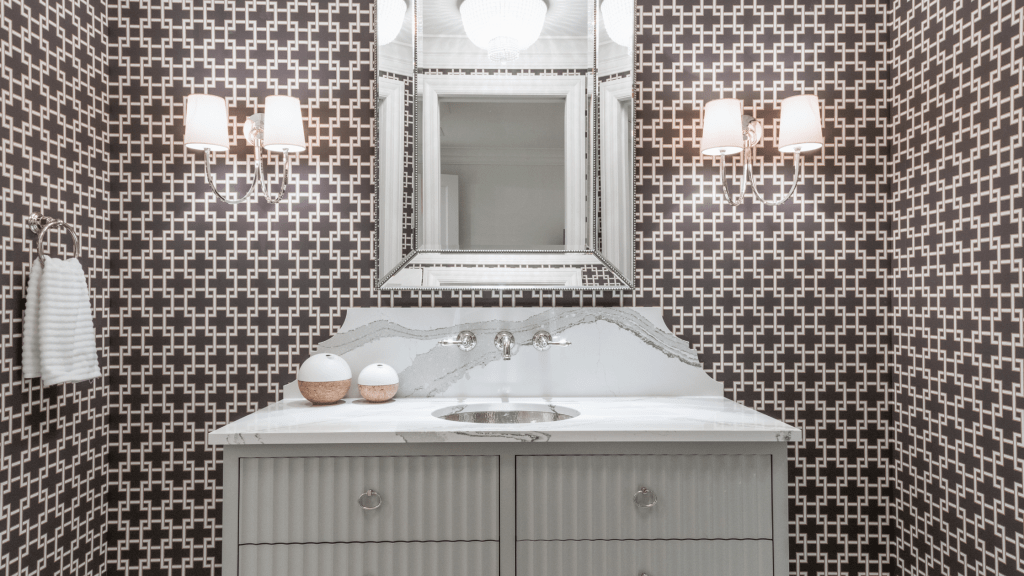 Another controversial trend of 2022 is the reintroduction of wallpaper in bathroom design. Some people may cringe when they hear that but, keep in mind, it's not your Grandma's wallpaper that we're talking about. Wallpaper with big bold, colorful patterns is trending this year. What's particularly "in" right now is wallpapering just one wall in your bathroom or half-bath to create a bold accent wall that really pops! If you're not ready to fully commit to gluing down and removing wallpaper, there's now a variety of peel & stick wallpaper options available, which can easily be peeled off and replaced if you're looking for frequent change or find that the wallpaper aesthetic just isn't for you later on.
Did any of these trends peak your interest? What other trends are you looking forward to trying in 2022? If you're looking to remodel your bathroom this coming year, give go2-pros bathroom renovation a call! Our design team can help you build your best bathroom!