February 21, 2022
7 Ideas To Maximize Your Small Kitchen Space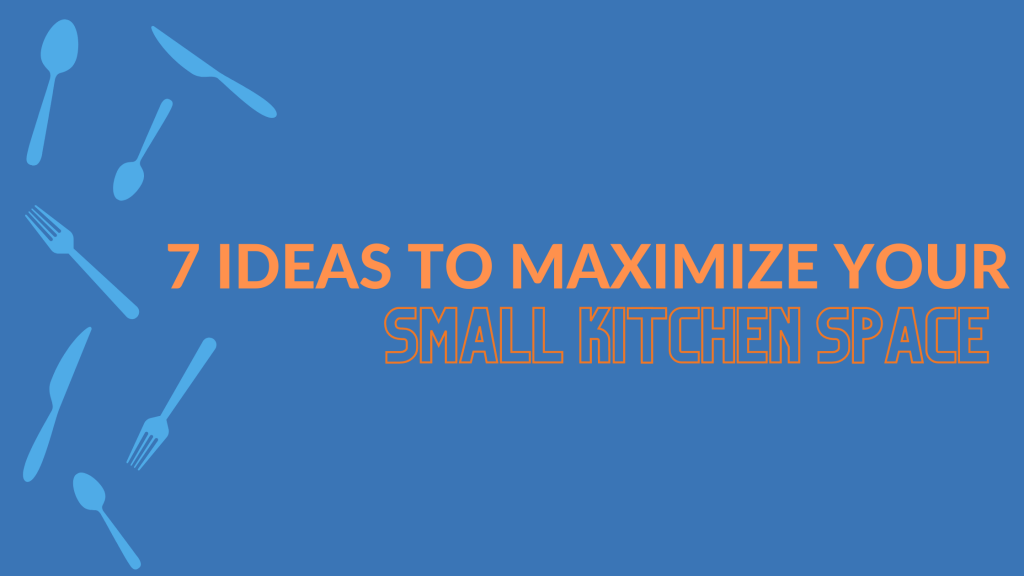 Planning a new kitchen layout is hard, it gets even trickier if you're a homeowner whose kitchen is best described as "cozy". A small kitchen space doesn't have to be a hindrance, though. In fact, most of the time a small kitchen space can be quite beneficial, when everything you need is right within reach. Here are a few ideas to maximize your small kitchen space, to make it conveniently functional and aesthetically pleasing.
Determine Your "Must-Haves"
When designing your small kitchen space, you need to plan ahead and know what your "must-haves" are. List out everything you need, including appliances and storage space. Think about how you cook, who else in your family needs access to the kitchen, and where the dining table is in relation to your dishwasher. When in doubt, get help and design advice from a professional kitchen designing service, specifically trained in spatial design and knowledgeable of the most up-to-date space-saving innovations.
Use Natural Light To Your Advantage
A sensible choice when it comes to kitchens of any size is to ensure access to unobstructed windows. Natural light can make rooms feel bigger. Maximize your kitchen's potential to allow natural light to flood in by ensuring you don't have appliances blocking windows and removing dark, light-blocking curtains. If you're worried about nosy neighbors whose homes face in towards your kitchen, you may want to invest in a window film that allows light in but obstructs the view of anyone who might glance into your home.
Utilize open shelving and glass cabinets
While closed cabinetry is great for keeping kitchens neat and tidy, in small kitchen spaces, they can actually make your kitchen feel so much smaller. To combat this, keep solid cabinetry to the lower half of the kitchen (below your counters) and utilize open shelving concepts or glass-front cabinets on the upper half (above your countertops). Using these methods allows for a greater sense of depth. The best part is that your kitchen will feel more open without you having to sacrifice storage space.
Add reflective surfaces
Glossy cabinet door fronts, transparent glass shelving, and shiny new metallic appliances will take advantage of the natural light we talked about earlier and help your kitchen feel bigger by bouncing that light around the space. Mirrored surfaces can make a small room feel a lot larger than it actually is. Some other ways to add reflective surfaces include opting for metallic/shiny hardware, installing a mirror in or directly across from your small kitchen space, or investing in beveled, antique mirror glass tiles for your backsplash.
Install hidden light sources
Say you don't have a kitchen that has any windows, now what? Clever kitchen lighting can be the key. Unobtrusive, hidden strip lighting under cabinets is one way to help brighten up your kitchen. Paired with reflective surfaces, this will further help give the illusion of more space in your kitchen.
Keep countertops uncluttered
If you ever flip through a home improvement magazine, one of the first things you'll likely notice is that most of the layouts that show kitchens show them without much countertop clutter. Small appliances, tea and coffee canisters, knife blocks, and utensil holders may be practical but they can also make a small kitchen space feel cramped and messy. Add extra shelving above areas where you are likely to meal-prepping to stash these items. Another option is to dedicate a cupboard you already have specifically to hide away your most-used countertop items – a place well within reach that you can keep these pieces out of sight but within immediate reach for daily use.
Use color wisely
Sticking to light colors in your small kitchen space is the easiest way to make your kitchen feel roomier. If you want a splash of color, try painting or wallpapering an accent wall while keeping the other walls light. For a little more boldness, opt for light colored counters and get creative with the color of your cabinets and hardware or your backsplash tiles. Many people choose deep colors like navy blue or forest green on their kitchen cabinets, add bright reflective gold hardware, and keep the walls and flooring pale in comparison.
Need help designing your new kitchen space?
Contact go2-pros kitchen renovation. Our design experts are here to help you create the kitchen of your dreams, regardless of budget and size.